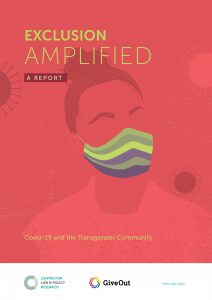 Trans and intersex persons are one of the most marginalised communities in India. It is no surprise then that when the lockdown to contain COVID-19 was announced on 24th March 2020 by the Prime Minister, hours before it was scheduled to begin, trans persons found themselves terribly unprepared for what was to come. After many extensions, the lockdown has only recently been lifted partially. In these months, the trans community has suffered enormously, yet there have been few attempts to ameliorate their condition.
This Report presents certain key findings on how the trans community was excluded and marginalised during this time by the State. Its aim is to portray the lived realities of trans and intersex persons from all over India and to capture some of the issues faced by the community during the pandemic. The key findings included:
Rations and Food Security: During the lockdown, several central and state government relief packages and efforts were deployed, almost none of which were targeted at trans persons or endeavoured to be accessible to the community. The Pradhan Mantri Garib Kalyan Yojana was announced to provide free rations and food grains, free LPG gas cylinders to the poor, and other benefits to health workers, migrant workers and others. This welfare scheme was not of much use to trans persons as most trans persons did not possess ration cards or other registrations and IDs needed to avail these benefits. Trans persons who approached ration shops during the lockdown were denied free rations and subjected to harassment for not having their ration cards.9 Thus the main scheme for providing free food grains was completely inaccessible by the trans community as it was dependant on ration cards which a large number of them did not possess.
Loss of Livelihood and Income: According to recent data, 92% of the transgender population in India does not have access to regular employment. Most trans women rely on sex work, begging and badhai-toli for livelihood. Trans men, on the other hand, rely on ad-hoc employment or setting up roadside shacks. Others almost exclusively work in the unorganised sector, depending on daily-wage categories of jobs, begging, manual labour and sex work. Most of this work involves engagement with other people and public spaces and so trans persons found themselves without work as soon as the lockdown was announced. The physical distancing requirements, ban on weddings and gatherings and the complete lockdown, made these jobs untenable and unsafe, essentially cutting off the few sources of income available to transgender persons. Those trans persons engaged in folk practices and cultural forms are mostly needed from March to May, which was also the period of the lockdown. They were thus left without any source of livelihood since the festival season passed with the lockdown in place.
Housing & Shelter: Safe housing and shelter have always been and continue to remain one of the most significant dimensions in the denial of rights to trans persons and the ultimate failure of the state to prevent social exclusion. Most trans persons are either thrown out of families at a very young age or they run away to lead their lives in their chosen gender. As such, they rely mainly on rented accommodation. Due to large scale stigma and rampant discrimination, trans persons often pay much more than cis persons for the same accommodation. With no documents in place, these are almost never formal agreements and thus perpetuate the exploitation even further, with no remedies possible. Due to the sudden and seemingly indefinite lockdown, a difficult housing environment became a full-blown crisis of homelessness, with multiple reports of transgender persons being denied entry to their usual places of residence. Even as governments asked landlords not to collect rent for some time, this was never executed. Trans persons soon found themselves homeless when they could not pay rent. The harassment by landlords was rampant – sometimes with verbal threats and others by switching off essential services like electricity and water.
Access to Healthcare and Mental Health: UNAIDS identified key populations particularly vulnerable to the effects of the Covid-19 virus i.e. trans folx, particularly trans sex workers, who are immunocompromised due to a high incidence of HIV. Despite these recommendations and India's protracted work on HIV prevention, the lockdown saw unprecedented inaccessibility to healthcare – particularly in regard to the availability of antiretroviral (ART) medication and access to ART Centres. With the overloaded hospitals, HIV treatment and testing, hormonal treatment and gender-affirming treatments for trans people were completely interrupted and not provided. Additionally, the lockdown took a toll on people's mental health in a serious way.
Police brutality, Violence & Stigma: Structural violence whether by institutions or police against trans persons is well documented in India. Trans persons routinely face human rights violations in the form of harassment, abuse and physical and sexual violence – most of which go unreported and undocumented. The enhanced police powers during the lockdown in India saw a steep escalation in police brutality. This violence against transgender persons increased during the pandemic due to the lockdown with police powers being increased under the guise of enforcing the lockdown.
In light of the findings, the report ended with 11 recommendations. The recommendations, found in the FULL Report, are available HERE.